Okay friends...it's almost time for Annie and mys Inaugural WEDNESDAY WISHLIST. I've only been blogging for a short time (Annie for longer), but I loved knowing that I could jump onto to my favorite blogs and find fabulous ideas, thoughts, stories, fashion, etc... Bloggers are un-glorified reporters who do all the research for us.
With all of that being said (and since Annie had already compiled some amazing wishlists of her own) we decided to get together and create a link-up.
For the readers out there...this means the work has been done for you! Every Wednesday you now have one place to go where all the wishlist fabulousness has been compiled.
For the bloggers out there...it's easy. Just make your wish list. It could be one item or a list of things; whatever you are wishing you could buy, wear, say, do, travel to, look like, be like, not look or be like, etc... The possibilities are endless!!!
Check out some examples of Annie's past
wish lists here. We both use Polyvore to make our collages.
So tomorrow, just add this button to your post and be sure to link-up with us; come meet and see other bloggers favorite things!!!!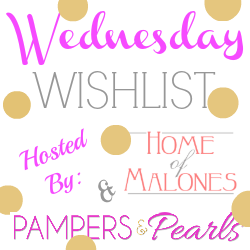 <a href="http://pampers-pearls.blogspot.com" target="_blank"><img src="http://i745.photobucket.com/albums/xx100/morganteichert/WednesdayWishlistButton_zpsb02e6410.png" alt="Pampers&Pearls" width="250" height="250" /></a>
Labels: lifestyle, Wednesday Wishlist