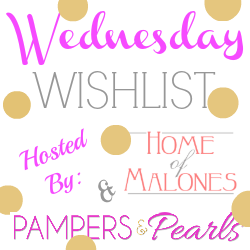 Today I'm wishing that money weren't an option and I could buy one of these!
Tempur-Choice Luxe


The Tempur-Choice Luxe mattress "pairs the body-conforming support of TEMPUR® material with multiple adjustable comfort zones under your head and legs, plus an extra bit
of support under your lower back." Ahhh...
SleepNumber M7
I'm not gonna lie, today's wish is a bit embarrassing...so sad that this is what my life has come to; getting old is a B&*%$! But God knows that after carrying a baby for almost 10 months and having his big head pushing on my sacrum, that my back is more screwed than a light bulb! Did you also know that your body continues to produce relaxin for up to 6 months after you finish breast feeding!? I didn't know this either until the physical therapist I met with (yes, my back is that bad) gave me this little nugget of info. No wonder I've been in so much pain! My spine has been working overtime while I've been training for the marathon just to hold my core in place; yuck! So needless to say, there are a few adjustments that need to be made in my life. 1) marathon training has been bumped to half-marathon training...bummer! 2) I have to start doing yoga and/or pilates to re-train my core and pelvic floor (I just got grossed out by writing that). And 3) we need a new mattress. Do any of y'all have recommendations? Found a mattress that you love!? PLEASE LET ME KNOW! I doubt it'll be one of these...but a girl can hope.
Alright Lovies, you know the drill...
- Post your Wednesday Wishlist
- Grab the button and link back to both of our blogs: Home of Malones AND Pamper & Pearls
- Link up starts on Wednesday at 6am EST
- Share your favorites and click around and meet new friends and comment on their lists!
-Also, please help us promote our link up! Use the hash tag #wednesdaywishlists on Instagram, Twitter and Facebook. (Tag us on IG: @pamperspearls and @homeofmalones) (Twitter @mtike and @aladams4). Tag us and we'll re-tweet!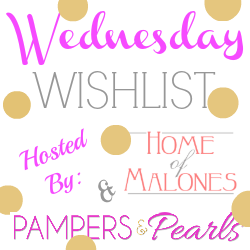 <a href="http://pampers-pearls.blogspot.com" target="_blank"><img src="http://i745.photobucket.com/albums/xx100/morganteichert/WednesdayWishlistButton_zpsb02e6410.png" alt="Pampers&Pearls" width="250" height="250" /></a>
Labels: Wednesday Wishlist