It's that time of week again & my new favorite day...Wednesday Wishlist Link-up with Annie!
Again, Here's how it works:
- Post your Wednesday Wishlist
- Grab the button and link back to both of our blogs: Home of Malones AND Pamper & Pearls
- Link up starts on Wednesday at 6am EST
- Share your favorites and click around and meet new friends and comment on their lists!
- We would also love to see you on Instagram, Twitter or Facebook using hashtag #wednesdaywishlists
This week I am wishing my girls could have won. As you may know I used to be a teacher and a coach, and I loved both equally. Coaching was one of the hardest things for me to give up to stay home. So yesterday I drove down to Orlando for the volleyball state semi-finals. My team has been to States 14 of the past 20 years…Impressive right!? Unfortunately we have not won the state title since 1998 and this year was no exception. We lost to a very good team, but we were the better one; we just never "got off the bus." It's heartbreaking being a fan! It's so hard watching your team lose, but it's even harder when you know how wonderful and talented the girls on the team are. This is hands-down the best BK team I personally have ever seen and it's so sad knowing they should have & could have won. But...physical ability is maybe only half of the game…The rest is all mental. As Bobby Knight said; "Mental toughness is to physical as four is to one."
Anyways I am extremely proud of the players and coaches, and I'm even more proud to be/have been affiliated with such an amazing athletic program. But I still wish we could have won, darn it! :-(
Oh and if this all looks a little wonky, it's because I wrote it via voice memo while driving back in my car from Orlando. ;-)
~ Hope y'all's wishes come true ~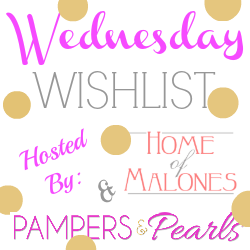 <a href="http://pampers-pearls.blogspot.com"
target="_blank
><img src="http://i745.photobucket.com/albums/xx100/morganteichert/WednesdayWishlistButton_zpsb02e6410.png" alt="Pampers&Pearls" width="250" height="250" /></a>
Labels: Jacksonville, Wednesday Wishlist