"We've had bad luck with our kids - they've all grown up."
Yesterday Wake turned 10 months and I still can't figure out where the time went. All the cliches are true; it goes so fast!! Sometimes I feel like I was pregnant yesterday, and other days it seems like he's been here forever. The first five months of his life are such a blur to me (probably because I was the walking dead), so for today I am wishing to STOP TIME...or at least stop Wake from growing so fast!
Here are a few of my sweet baby's favorite things:
* Roasted Chicken Breast & Turkey
* Oatmeal
* Frozen Mangos
* Yes, for whatever crazy reason I happened to save my old pink razr flip phone. Wake is always trying to grab and suck on Joe and my iPhones, so I dug this thing out from a box underneath my bed and it's his new favorite.
* Teething keys. I put these in the freezer for him to chew on when he's teething, which is right now (about to cut his 7th tooth).
* Teething ring. Same thing as the keys, but he crawls around with this one in his mouth and gets "frost bite" on his cheeks. See photo below.
* Our remote...this can get annoying.
* The greatest gift we received after Wake's birth was this name stool. Wake loves to crawl all over it and suck on the letters.
(*I probably could/should have added Tupperware and racquetballs to the list too!)
* Naps from 9am - 10:30am
* Naps from 1:30pm - 3:30pm
* Sleeps at night from 7:30pm - 6:45am
- We didn't have a check up this month but based on my estimations...
* Can crawl across the room in 5 secs...has gotten so fast!
* Took two steps unassisted today
* First Thanksgiving/Christmas
* Recognizes Daddy and says Dada
* Recognizes Daisy (our dog) and says Day....I'm chop liver!
* Saying lots of consonant sounds
I'm trying to cherish every moment BUT...I still wish my sweet would stop growing so fast...
~ Morgan ~
- Post your Wednesday Wishlist
- Link up starts on Wednesday at 8am EST
- Share your favorites and click around and meet new friends and comment on their lists!
-Also, please help us promote our link up! Use the hash tag #wednesdaywishlists on Instagram, Twitter and Facebook. (Tag us on IG: @pamperspearls and @homeofmalones) (Twitter @mtike and @aladams4). Tag us and we'll re-tweet!
*ALSO, WE WILL BE TAKING A BREAK FROM OUR WISHLIST NEXT WEEK IN HONOR OF THE BIRTH OF CHRIST!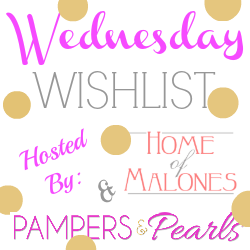 <a href="http://pampers-pearls.blogspot.com" target="_blank"><img src="http://i745.photobucket.com/albums/xx100/morganteichert/WednesdayWishlistButton_zpsb02e6410.png" alt="Pampers&Pearls" width="250" height="250" /></a>
Labels: #wakeland, #wednesdaywishlists, family, Wednesday Wishlist