"In the darkness before the dawn
In the swelling of this storm
We've been rounding with apologies
I'm rolling with the thunder"
- Coldplay




One of the many things y'all may or may not know about me is that my all time, hands-down, ride or die favorite band is Coldplay. I have felt a special connection with their music and lyrics since I first heard the song "Yellow" from their debut album Parachutes in 2000. My close friends will tell you, and I can't explain why, but when I'm going through something "important" in my life, Coldplay always seems to release a song that speaks to my heart regarding said matter.
With all of that being said, yesterday at the stroke of midnight (Ulaanbaatar time - don't ask me why!?) Coldplay released a top-secret, brand - new song titled "Midnight." No one from Coldplay's camp is talking much, but everyone is speculating that this song will be taken from their upcoming sixth studio album. DEAR LORD...MY WISH TODAY IS THAT THIS IS TRUE!!! Please release a new album & let it be soon because we haven't had a new album since Mylo Xyloto in 2011!
"Midnight" begins with "

chiming electronics and Chris Martin's plaintive, thoroughly treated vocals. Then gradually builds to a thumping, synth-heavy crescendo before eventually fading away. And the track takes it's time, too, slowly spreading over the span of five-plus minutes." It comes with mixed reviews, however in my opinion everything they do is amazing and I don't care what anyone thinks! Check it out below and tell me what you think! Happy Wishing!!
*Check out the video below..
- Post your Wednesday Wishlist
- Link up starts on Wednesday at 8am EST
- Share your favorites and click around and meet new friends and comment on their lists!
-Also, please help us promote our link up! Use the hash tag #wednesdaywishlists on Instagram, Twitter and Facebook. (Tag us on IG: @pamperspearls and @homeofmalones) (Twitter @pampers_pearls and @aladams4). Tag us and we'll re-tweet!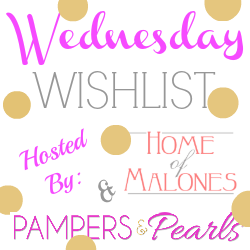 <a href="http://pampers-pearls.blogspot.com" target="_blank"><img src="http://i745.photobucket.com/albums/xx100/morganteichert/WednesdayWishlistButton_zpsb02e6410.png" alt="Pampers&Pearls" width="250" height="250" /></a>