Today is Ash Wednesday, and marks the beginning of the Season of Lent. Due to my own Catholic guilt, I struggled with "wishing" for anything materialistic today; just didn't seem right. So in honor of Lent (a season of penance, reflection, and fasting which prepares us for Christ's Resurrection on Easter Sunday, through which we attain redemption) I am going to switch things up a bit.
First, for those of you who have ever wondered, Catholics receive ashes on our foreheads the first day of Lent to humble our hearts and remind us that life passes away on Earth.
This quote always makes me think of the Kansas song, "Dust in the Wind." YOU MY BOY BLUE!!!
"Ashes are a symbol of penance made sacramental by the blessing of the Church, and they help us develop a spirit of humility and sacrifice... The ashes are made from the blessed palms used in the Palm Sunday celebration of the previous year. The ashes are christened with Holy Water and are scented by exposure to incense. While the ashes symbolize penance and contrition, they are also a reminder that God is gracious and merciful to those who call on Him with repentant hearts. His Divine mercy is of the utmost importance during the season of Lent, and the Church calls on us to seek that mercy during the entire Lenten season with reflection, prayers and penance." - Catholic Online
The 40 days of Lent are based on two Biblical accounts; the 40 years of wandering by the Israelites and our Lord's 40 days in the wilderness at which point He was tempted by Satan. Each year the Church observes Lent where we, like our Lord, are tested. We participate in abstinence (no meat on Fridays and giving something up), fasting (on Ash Wednesday, Good Friday) etc... The goal of every Christian is to leave Lent a stronger and more vital person of faith than when we entered.
This year I am going to try to give up white food. Sounds weird right!? Well I stole the idea from my Aunt who has done it for the past few years. She not only loses a little bit of weight but always feels so much better after the 40 days. PLUS, how much more exciting will Easter be when I can break into those Starburst Jelly Beans!? So this means for the next 40 days I can't have white rice, pure sugar, white potatoes, pasta, bread, etc... This is also why yesterday for Fat Tuesday I ate like I was going to the chair; bacon egg & cheese bagel for breakfast, leftover chicken parmesan for lunch, pizza & breadsticks for dinner, and king cake for dessert. Yes...I legitimately ate all of that (but I went to yoga too so don't judge).
So with all of that being said, here is my Wednesday Wishlist for Lent...
That the Lord will grant me the strength to abstain from "white" for the next 40 days.
That I will remember the importance of why I abstain.
That prayer, reflection & mass become an even greater focus these next 40 days & the rest of the year.
That I always model Christ-like behavior towards/for my son and husband.
That I will always be thankful for my many blessings.
That God will always bless my family & friends with health & safety.
That any and all of you have a wonderful Lenten Season!
- Post your Wednesday Wishlist
- Link up starts on Wednesday at 8am EST
- Share your favorites and click around and meet new friends and comment on their lists!
-Also, please help us promote our link up! Use the hash tag #wednesdaywishlists on Instagram, Twitter and Facebook. (Tag us on IG: @pamperspearls and @homeofmalones) (Twitter @pampers_pearls and @aladams4). Tag us and we'll re-tweet!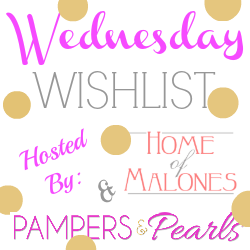 <a href="http://pampers-pearls.blogspot.com" target="_blank"><img src="http://i745.photobucket.com/albums/xx100/morganteichert/WednesdayWishlistButton_zpsb02e6410.png" alt="Pampers&Pearls" width="250" height="250" /></a>
Labels: Catholic Faith, family, lifestyle, What is Ash Wednesday, What is Lent