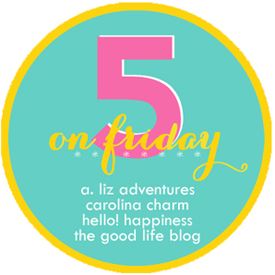 This week flew! I'm sure it's partially due to the fact that Monday didn't really count. Have y'all had a good week!? We were incredibly busy around here this week; W has been sick since Sunday, The Hubs is still nursing a minor (self-inflicted) injury, and the cat decided to shadoobie outside of the litter box twice. #ALWAYSAMOM...It's been super fun! But, I count the good with the bad because this week has also been the best week for P&P since it's creation. We've had the most visitors, link-ups, comments, and contacts then ever before. I am constantly overwhelmed with everyone's kind words, and still in shock that anyone cares about what I think, because in all honesty...I feel like this most of the time...
So thank you, thank you!!!

This week's Five on Friday is all about my newest/current Summer obsessions. Sometimes I have this completely irrational (and somewhat rude) fear of sharing things on my blog because I don't want my size to sell out before I actually get around to buying things. I know, I'm a little cray cray! But, because I love you, and because the likelihood of me buying all of these things is slim to none...share I will.
Labels: Alex and Ani, Beverly Swimwear, Five on Friday, Kate Spade, Lauren James, Nasty Gal, Steve Carrell, YouTube