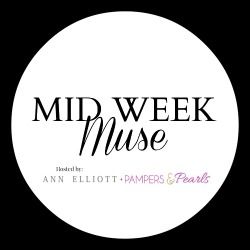 ~ Happy Hump Day Lovies ~
So I saved this outfit from last weekend for today because I love these pants soooo much; they are this week's muse!!! They are from Annie Griffin (shock right!?) and the second I saw them on the shelf I said a secret prayer to Jacob Davis that they fit...and they did!!! I thought the color was fun and vibrant and perfect for a birthday celebration. I wore them out for pizza on Friday night; probably a little too fancy, but as my mother always said, rather over-dressed than under-dressed. And, anytime I can wear neon orange heels I am happy, happy, happy! So, what do you think!?
Earrings: BCBGeneration (old, similar here) // Tank: Amour Vert // Pave' Link Bracelet: Target // Gemstone Bracelets: Love Andreas Closet // Watch: Michael Kors // ***Pants: Annie Griffin // Heels: J.Crew (Old, similar here) // Clutch: BCBG (old, similar here)
***Remember, Crave Boutique carries Annie Griffin's entire collection & if you tell them you read Pampers & Pearls you get 15% off your purchase!
OKAY...now it's your turn!!
~ HOW MID WEEK MUSE WORKS ~
Mid Week Muse is a linkup party every Wednesday. Submit your favorite fashion
related post from that week and link it up here at
Ann Elliott
and
Pampers &
Pearls
. Fellow bloggers and readers are one of our greatest sources of inspiration, and we hope you will join us and share your "muse."
REQUIREMENTS:
Grab the button below and link back to both of our blogs:
Ann Elliott and Pampers & Pearls.
Link up starts on Wednesday at 7:30am EST.
Please help us promote the link up!
Use #MidWeekMuse and be sure to tag us on IG:
Share your post on Facebook and give us a shout out:
Follow us on BlogLovin:
Ann Elliott and Pampers & Pearls.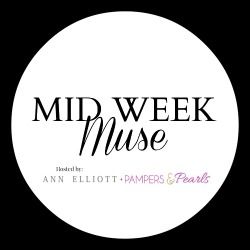 Labels: Amour Vert, Annie Griffin, BCBG, BCBGeneration, fashion, J.Crew, Love Andreas Closet, Lucky, Michael Kors, Mid Week Muse, Target