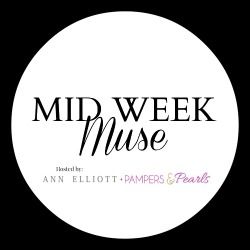 Welcome back for another Mid Week Muse lovies!! If this is your first visit/link-up, Annie and I are sooooo glad you found us! If you're becoming a veteran, we love you to pieces and are grateful for the continued support!!
I had been wanting these Tory Burch sandals for awhile, (even put them on my Birthday wish list) but my husband bought them for me as a belated Christmas present before my Birthday!! I'm a terrible decision maker and he's an awesome husband...so we make a great team - haha ;-). Anyways, these sandals haven't come off my feet since I got them! I wore them out to The Player's Championship BOTH days and never got a blister. I couldn't believe how comfy they were! Plus, my favorite part is that even though they are sandals, the color makes them a bit dressy, so your feet always feel fancy and they go with almost every outfit!! Unfortunately the Tory Burch sale just ended BUT I promise if you pay attention to Tory, Nordstrom, Saks, or Bloomies they will be on sale again soon!
Tory Burch Miller Sandals
Anyways, I wore this fun & easy ensemble to dinner on Friday night (with the friends I mentioned on Monday). The Annie Griffin top is from "last season" which I think is funny because the color, fabric & "breezy" fit make it perfect for summer. What's even better though is that you can get it here from Crave Boutique for $20 less than the Annie Griffin online store. AND...don't forget...if you say the magic word (PAMPERS & PEARLS) you get 15% off!!! Happy "Musing" Goddesses!!
Tunic: Annie Griffin // Jeans: Citizens of Humanity // Charm: Moon & Lola // Nail Polish: Essie Peach Daiquiri // Watch: Michael Kors // Bangle: MudPie // Sandals: Tory Burch


OKAY...now it's your turn!!

~ HOW MID WEEK MUSE WORKS ~
Mid Week Muse is a linkup party every Wednesday. Submit your favorite fashion
related post from that week and link it up here at
Ann Elliott
and
Pampers &
Pearls
. Fellow bloggers and readers are one of our greatest sources of inspiration, and we hope you will join us and share your "muse."
Grab the button below and link back to both of our blogs:
Link up starts on Wednesday at 7:30am EST.
Please help us promote the link up!
Use #MidWeekMuse and be sure to tag us on IG:
Share your post on Facebook and give us a shout out: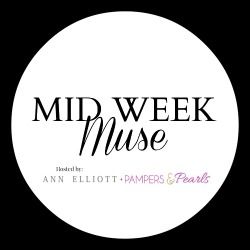 Labels: Annie Griffin, Citizens of Humanity, Crave Boutique, fashion, Lucky, Mid Week Muse, Tory Burch