~ Good Morning Sunshines ~
I'm on time today! Impressed!?
In all honesty I haven't been musing over much fashion this week. Instead I've been musing over the book I'm reading, the pool I'm laying out by, and the peaceful locale of our vacay. HOWEVER...as promised last week, I had to share with you my new favorite top by Lisa Todd. All her stuff is amazing; incredibly comfortable and really cute. Last night we had a rain storm come through the mountain (which was neat/crazy to see), bringing with it a little chill in the air. So I got to enjoy happy hour on the porch in my "Love Is..." shirt.
Top: Lisa Todd (Available at Crave Boutique. Call or stop in to order/purchase!) // Pants: Solow // Sandals: Target (old, similar here) // Hair Products: Mountain Air // Accessories: Michelob Ultra
As you can see I haven't give much thought or care to my "appearance." There is something so refreshing about not wearing make-up, or blow drying your hair, or wearing deodorant (yeah, I said it & I mean it), etc... My flashiest accessory has been a Corona Light with Lime and my new favorite hair product is Mountain Air ;-). That's what vacations are for though right!?
Okay Lovies...can't wait to see what y'all are musing over this week! SMOOCHIES!
_________________________________________________________________________________
~ HOW MID WEEK MUSE WORKS ~
Mid Week Muse is a linkup party every Wednesday. Submit your favorite fashion
related post from that week and link it up here at
Ann Elliott
and
Pampers &
Pearls
. Fellow bloggers and readers are one of our greatest sources of inspiration, and we hope you will join us and share your "muse."
Grab the button below and link back to both of our blogs:
Link up starts on Wednesday at 6:00am EST.
Please help us promote the link up!
Use #MidWeekMuse and be sure to tag us on IG:
Share your post on Facebook and give us a shout out: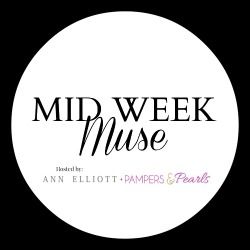 Also linking up today with:
Labels: Crave Boutique, fashion, Lisa Todd, Lucky, LuckyMag, Mid Week Muse, Solow, Target