When I think of the word "chic" I immediately envision women that are naturally beautiful, effortless, elegant, refined, and stylish. In my head I see Kate Middleton, Princess Diana, Grace Kelly, Jackie O, My Mother... They don't need to show skin to be irresistible & they know how to wear clothes that fit their body type. These women could make pleated khaki shorts swanky! And this is exactly how I wish I could dress every day!
So last week while out browsing I was introduced to this new line called The T Refinery. They believe in timeless clothes that are modern but with a relaxed, chic, and classic fit. I was hooked immediately! When a simple shirt can feel as good in your fingers as it looks when wearing it, I'm sold quicker than a fresh bacon - maple doughnut. I settled on this really yummy (can't get doughnuts out of my head now) pink & white sheer blouse. Here is exactly how I would style it...and now I am musing over this entire chic & summery look!
Now it's your turn...What are you musing over!?
_________________________________________________________________________________


~ HOW MID WEEK MUSE WORKS ~
Mid Week Muse is a linkup party every Wednesday. Submit your favorite fashion
related post from that week and link it up here at
Ann Elliott
and
Pampers &
Pearls
. Fellow bloggers and readers are one of our greatest sources of inspiration, and we hope you will join us and share your "muse."
Grab the button below and link back to both of our blogs:
Link up starts on Wednesday at 6:00am EST.
Please help us promote the link up!
Use #MidWeekMuse and be sure to tag us on IG:
Share your post on Facebook and give us a shout out: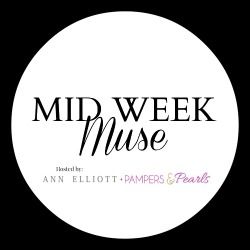 Also linking up today with:
Labels: Crave Boutique, fashion, J.Crew Factory, Jeffrey Campbell, Kendra Scott, Mid Week Muse, Nordstrom, Rebecca Minkoff, The T Refinery