~ Guess what day it is!? Hump Day! ~
That's right lovies...it's Wednesday, which we affectionately refer to as "Mid Week Muse" around here. This week instead of showing you something I already wore (and obsessed about), I put together a little collage of what I plan to wear. On Saturday we are going on a vacation with my husband's parents & siblings up into the Tennessee mountains. We have a ridiculously awesome cabin house rented for the week in the heart of the Smoky Mountains. I have a long list of things I'd like to do; eat, sleep, drink coffee on the porch overlooking the mountains, read in the hot tub, maybe go for a hike, nap, etc... Sounds exhausting right!? But fear not, they do have Internet so I will still be with you next week. The best way to stay up to date with what's happening though, is to follow me on Instagram here. Anyways, I'll def be writing, but my posts will most likely have a vacation vibe - ahhh!
Can you hear that? Me neither...it's silence, and it's calling my name!
So in preparation for my trip, and the ridiculous amount of packing that looms ahead of me this week, I'm musing over super cute/comfortable outfits.
Headband: Lulu Lemon // Tank: Lulu Lemon // Jacket: Lulu Lemon // Crop pants: Lulu Lemon // Tennies: Vasque (old, newer model here) // Sweater: Lisa Todd // Jorts: Levi's // Tunic: Amour Vert // Jeans: James Jeans // Sandals: Tory Burch // Nail polish: Essie Ole Caliente
During the day I plan on living in every piece of Lulu Lemon I own. I love this store. Yes, they may be overpriced, BUT if you take good care of everything (hang dry, etc...) then it will literally last you a lifetime. You know me people...I only spend $ when necessary. Quality over quantity people! Anyway, I also love their stuff because even when I'm sweaty and gross I look "cute", and their stuff really is comfy. This will be perfect for morning yoga with Milly, going for a jog, taking a hike into the mountains with the kids, etc... The weather can get into the high 80s during the day and down into the low 60s at night, so layering is the key!
Speaking of night time, I know I'll be living in my jorts & jeans. The Tory sandals are a must just because I heart them so much, AND I'm beyond obsessing over that Lisa Todd sweater. I had never heard of Lisa Todd until a few weeks ago, but apparently she has quite a cult following. Her stuff is near impossible to find and flies off the shelves of boutiques whenever a new shipment comes in (which Jacksonville folks, you can get at Crave Boutique). I love this blue heart sweater BUT I ended up getting a different style; one you'll have to wait to see for yourself next week! Anyway, since I plan on sitting on the porch with a glass of wine & a good book every night, I figured long sleeves would be a good idea. Oh, and because I hate not having some sort of flashy color with my outfits, I'll probably go with Essie's Ole Caliente (again) to spice everything up.
So...what do you think about my muses? What are y'all musing over this week!? Do tell...
_________________________________________________________________________________
~ HOW MID WEEK MUSE WORKS ~
Mid Week Muse is a linkup party every Wednesday. Submit your favorite fashion
related post from that week and link it up here at
Ann Elliott
and
Pampers &
Pearls
. Fellow bloggers and readers are one of our greatest sources of inspiration, and we hope you will join us and share your "muse."
Grab the button below and link back to both of our blogs:
Link up starts on Wednesday at 6:00am EST.
Please help us promote the link up!
Use #MidWeekMuse and be sure to tag us on IG:
Share your post on Facebook and give us a shout out: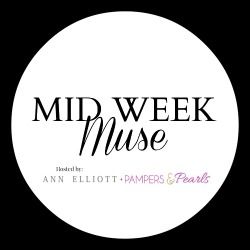 Also linking up today with:
Labels: Essie, fashion, James Jeans, Levi's, Lisa Todd, Lulu Lemon, Mid Week Muse, Tory Burch, Vasque