~ Happy Hump Day Hotties ~
I'm super excited to introduce my newest sponsor (and Muse); Knot + Bow Designs. "Georgia based designer Karli Campbell Buxton launched Knot + Bow Designs in Spring of 2013. After graduating from Georgia Southern University with a Bachelors in Fashion Merchandising and Design, Karli moved to New York City where she continued her love for fashion and worked under designer Don O'Neill of Theia. Realizing that New York City wouldn't be her forever home, Karli went back to her roots with what she had learned, and created her own design business... Karli carefully selects each element that is incorporated into her exclusive and worldly inspired designs."
I found out about Karli from a mutual friend and was immediately blown away not only by her gorgeous, eye-catching designs, but also by the fact that she is self-taught. One look at her jewelry and you will understand just how talented she is!
I was lucky enough to snag a few of her best-sellers for myself and I'm obsessed! These Amethyst Hoop Earrings haven't come off since I got them!
Pardon the no make-up look...I literally haven't taken these things out of my ears & asked the hubby to snap a shot!
No doubt you'll continue to see all of her pieces on me. For example, check out this cuff! Purple Stalactite on a leopard hide! I die!
I actually took this photo while writing the post...AND the cuff matches my earrings perfectly! Swoon!
And lastly, I can't even describe to you the awesomeness that is this turquoise stone & tan spine necklace! It's so amazing that it actually sold out, BUT, here is a similar one that is in stock right now!
Remember though, since everything is handmade, the designs are constantly changing to stay with current styles & demand...SO make sure you follow Knot + Bow Designs on Facebook & Instagram to keep up with everything fun & new!
***Be sure to follow me on Instagram because Knot + Bow and I are planning an amazing giveaway you don't want to miss AND...how else will you see the many ways to style all of Knot + Bows stunning jewelry!?!?
_______________________________________________________________________
Now...I'd like to give a big shout out to Erica from Casually Styled. Annie and I have selected her as our very first "Favorite Muse" from last week's link-up.
We loved Erica's "muse" last week for the perfect blend of high and low end pieces. Who says you can't pair chambray shorts from Loft with Valentino heels? We also love that the base of the outfit is simple, but the whole look is taken to a new level with bold accessories. Bring on the nail polish, chunky gold jewelry, and those Valentino studs...
Congrats Erica and thanks for linking up!!
________________________________________________________________________
Okay y'all...it's your turn to show us your muse for the week!
~ HOW MID WEEK MUSE WORKS ~
Mid Week Muse is a linkup party every Wednesday. Submit your favorite fashion
related post from that week and link it up here at
Ann Elliott
and
Pampers &
Pearls
. Fellow bloggers and readers are one of our greatest sources of inspiration, and we hope you will join us and share your "muse."
Grab the button below and link back to both of our blogs:
Link up starts on Wednesday at 6:00am EST.
Please help us promote the link up!
Use #MidWeekMuse and be sure to tag us on IG:
Share your post on Facebook and give us a shout out: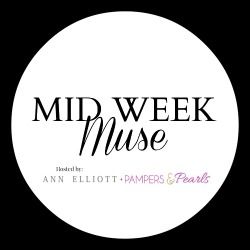 Also linking up today with:
Labels: fashion, Knot + Bow Designs, Mid Week Muse, sponsor