~ Happy Wednesday Lovies ~
Don't judge me but I'm writing this while watching Sharknado. I have FOMO when it comes to anything "trending"...but I'm starting to think missing out would have been WAY better. I'm losing brain cells as I type
Anyway, I'm really excited for this week's muse (per usual); Moon & Lola's Mini Social Necklaces.
There are a ton of really cute options; #, ? (which is really funny to me), $, &, and
@, in a plethora of colors.
I received my hashtag necklace in my swag bag at Southern Blog Society's Conference last month. I was so excited about it I instagrammed a photo immediately. Then I got a ton of questions about where to get the necklace, and to my chagrin, I couldn't find it online anywhere. I thought maybe they were out of stock already OR even made special just for people who attended the conference. However, to my extreme delight I discovered this week that we received them as a "sneak peak" and now they are available online for everyone!!!
Personally, the hashtag one is definitely the best one for me as a blogger though...the only things I need are caffeine, a computer & my hashtags. So thank you Moon & Lola for allowing me to represent!
_______________________________________________________________________________________________
Next...I'd like to give a big shout out to Tara Belle from Northern Lights - Southern Belles!
Annie is out of town this week on a much deserved vacay, so I have selected her as our"Favorite Muse" from last week's link-up.
Tara Belle and her boys are just perfect here; this picture looks like it comes in a frame when you buy it
. What's even more impressive is that they are super stylish & matching too; my heart just melts looking at this. I love how Tara Belle keeps it casual with her retro Chuck Taylor's & frayed shorts, but adds that perfect pop of chic glamour with her schoolboy blazer & statement necklace. When I think of effortless style...this is what I envision. Congrats, Tara Belle!
________________________________________________________________________________________________________
Okay y'all...it's your turn to show us your muse for the week!
~ HOW MID WEEK MUSE WORKS ~
Mid Week Muse is a linkup party every Wednesday. Submit your favorite fashion
related post from that week and link it up here at
Ann Elliott
and
Pampers &
Pearls
. Fellow bloggers and readers are one of our greatest sources of inspiration, and we hope you will join us and share your "muse."
Grab the button below and link back to both of our blogs:
Link up starts on Wednesday at 6:00am EST.
Please help us promote the link up!
Use #MidWeekMuse and be sure to tag us on IG:
Share your post on Facebook and give us a shout out: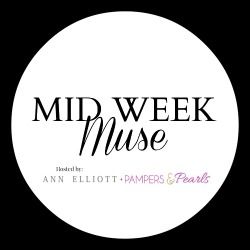 Labels: fashion, Mid Week Muse, Mini Social, Moon & Lola