How are you!? Long time no see! How was everyones Labor Day? Mine was full of labor. Not really but I'm beyond exhausted. We went out of town to visit my Father and nothing went as planned; my husband was sick & in bed the entire weekend, the baby was all out of sorts from flying, 3 of our 4 flights were delayed...and so on and so forth. Which btw, can we talk about the people watching at airports!? I think I'm going to start a website called "The People of Airports." Do people not own mirrors? Has the concept of having pride in your appearance (or at least cleaning yourself & clothing your body) completely gone down the shitter? I mean, you could take a hooker's bath and look a million times better than some of the people I saw. Yikes! BUT, I digress! I'm now safely back at home and at the computer, ready to start talking fabulousness with you!
This week's muse is Nordstrom. Period. The end. I grew up shopping the Nordstrom on Michigan Ave. in Chicago. It was where I went for all my back to school shopping, where I got my first pair of Tory Burch Reva flats, where I got my prom & homecoming dresses, etc... It was (and still is) one of my happy places. So when I found out that Nordstrom was finally coming to Jacksonville I fainted with excitement! I instagrammed a photo of the Nordstrom tarp at the construction site one time just out of sheer joy! And, due to my love for them (and this lovely little blog) I have the pleasure of working with their PR team so that I can bring you all the amazing updates on everything "Nordy's" first! With all of that being said I would like to inform you about/invite all you locals to the Nordstrom at St. Johns Town Center Grand Opening Gala.
The event is scheduled for Wednesday October 8th and t

ickets are now available for purchase at

nordstromjaxgala.com

for $75. The most amazing part is that Nordstrom underwrites the cost of the gala 100%, so the entire ticket price goes to three local charity partners: the Cathedral Arts Project, the Junior League of Jacksonville, and Wolfson Children's Hospital. The gala starts at 7 pm

and takes place in the new store. It will be the first chance for customers to get a look inside AND start shopping. Guests will also enjoy appetizers, dinner, drinks, dessert, and live entertainment throughout the store, all before our the Grand Opening on October 10

th. How fun does this sound!? I'll obviously be there with bells on and would love to meet all of you; so come on out and have a drink with me! (i'll post my outfit on Instagram beforehand so you know how to find me ;-)!

_______________________________________________________________________________________________
I love the entire outfit, but I would have selected her as my favorite on the shoes alone; hello amazing!!! They are the perfect mix of snake skin and fun colors that not only go with everything in the summer but transition perfectly into fall. I also love how casual & chic the rest of her look is; You can never go wrong with crisp white & denim. The whole look is perfectly styled without adding too much pizazz or taking away from the focal points; the shoes & the clutch.

Kudos lovie!
________________________________________________________________________________________________________
Okay y'all...it's your turn to show us your muse for the week!
~ HOW MID WEEK MUSE WORKS ~
Grab the button below and link back to my blog:
Link up starts on Wednesday at 6:00am EST.
Please help me promote the link up!
Use #MidWeekMuse and be sure to tag me on IG:
Share your post on Facebook and give me a shout out: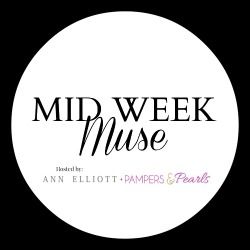 Labels: fashion, Grand Opening Gala, Jax Gala, Mid Week Muse, Nordstrom, St. Johns Town Center