What up 2014!? What up January!? It's this year's first Wednesday Wishlist!!! *Cue Pharrell..."Clap along if you feel like a room without a roof..."
Considering what the majority of the Eastern US has been experiencing weather wise lately, I figured it only fitting that I put together my cold weather running wishlist. Some of these items I own/use, and others I am wishing for (especially after my run today). Brrrrrr....it was colder than a dead witch's titty out there!
1) LuluLemon Base Runner Half Zip - This top is amazing!! I got it for Christmas and I wish I had one in every color so I could wear it every day. It's super cozy and made for running in the cold. My favorite part is that it zips all the way up to protect your neck from the wind, and then zips 1/4 of the way down when you need to cool down or look "cool" while running errands. I also love that it has thumb holes to help keep the sleeves down and hands warm...no need for gloves this way.
2) Smartwool Headband - I'm obsessed with stretchy workout headbands. I've been wearing them since high school, before they were even cool. I mean, I used to sport the white terrycloth headbands (Arthur Ashe style) during volleyball games...totally old school. So this headband is right up my alley and I wish I had it. Smartwool is such a genius brand; all their stuff is 100% Merino Wool BUT washable! This headband is double layered, and thick enough to keep your ears warm and headphones in place while running.
3) Patagonia Long - sleeved Fore Runner Shirt - Layering is the key to staying warm no matter where you are or what you're doing. This shirt is lightweight and made of fast drying 100% polyester. It's the perfect bottom layering piece and I wish I had it.
4) LuluLemon Speed Tight Tech - I also got these for Christmas and am obsessed. They're tight enough that they keep me warm and "held together" but not too tight as to where a passerby might look at my rear and think it resembles two cats fighting in a sack....or at least I hope not!
5) I have been working on my Pandora Pop and Hip Hop Power Workout station...it is literally the only thing that is getting me through my training. Today I ran 5 miles no problem with my jams; what a difference some good tunes can make! Just search, Pop and Hip Hop Power Workout on Pandora and Voila!
7) Vasque Mindbender - I got these a few years back before we went out to Lake Tahoe. I knew we'd be doing a lot of trail hiking so I wanted to get something good. "Originally created for long-distance trail running, the stability and agility of this shoe now make it appealing to a wide range of runners and hikers." Since I live in FLA I still usually wear my Brooks to run in, but because of the awesome tread these are perfect for wet and/or snowy conditions.
8) GiPis! I wrote about this here, but it's THE best training program I've ever used. I could talk about it forever, which would be annoying (I know my limits), so just check it out yourself!
9) And last but certainly not least, my PowerBeats by Dr. Dre. I also got these for Christmas and am so glad I did. I hate the headphones that Apple gives you with your iPhone! My ear holes are obviously too big (which is so weird), because they always fall out. PowerBeats allow me to not only run without having to fidget with my ears, but they also have amazing sound. #winning
Lastly, I'd like to give a shout out to my partner in crime Annie, over at Home of Malones. She is finally moving into her gorgeous new home and I WISH them a stress free and safe day of moving ;-).
- Post your Wednesday Wishlist
- Link up starts on Wednesday at 8am EST
- Share your favorites and click around and meet new friends and comment on their lists!
-Also, please help us promote our link up! Use the hash tag #wednesdaywishlists on Instagram, Twitter and Facebook. (Tag us on IG: @pamperspearls and @homeofmalones) (Twitter @mtike and @aladams4). Tag us and we'll re-tweet!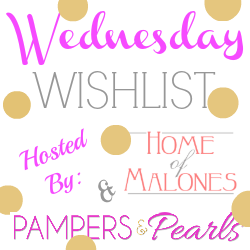 <a href="http://pampers-pearls.blogspot.com" target="_blank"><img src="http://i745.photobucket.com/albums/xx100/morganteichert/WednesdayWishlistButton_zpsb02e6410.png" alt="Pampers&Pearls" width="250" height="250" /></a>
Labels: #wednesdaywishlists, Beats by Dre, fashion, Gipis, Lulu Lemon, Pandora, Patagonia, SmartWool, Vasque, Wednesday Wishlist