Okay so I know I've been stringing you along this past month with A LOT of hints at collaborations/sponsors, etc... Well I am beyond excited to finally fill you in on everything; two big things! Are you ready!?!? In no particular order...
----------------
* FIRST *
----------------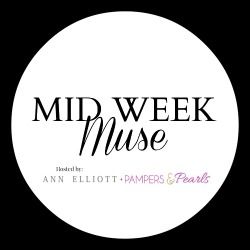 I would like to introduce you to my newest collaboration; Mid Week Muse.
Mid Week Muse is a weekly fashion link up with Annie of Ann Elliott (If you haven't found Ann Elliott Blog yet, now is the time. Annie is a beautiful person who epitomizes class and lady-like style
). Anyway, I'm ecstatic to be working with her and we are both so excited to share the details of our new link-up with you today.
THE BACK-STORY:
Muse: one of nine Greek goddesses that inspired the arts.
We know that putting together a perfect outfit, incorporating that bold new accessory, or re-thinking that treasured (and oft worn) piece in your closet is an art, and therefore we want to provide a little extra inspiration – a muse if you will. "Mid Week Muse" is a chance for all lovers of fashion to network and inspire others by sharing their "muse" for that week. Are you obsessing over a specific item? Post it! Did you create a collage of your dream look? Share it! Did you wear the perfect outfit? Let's see it!
HOW IT WORKS:
Mid Week Muse is a linkup party every Wednesday. Submit your favorite fashion
related post from that week and link it up here at
Ann Elliott
and
Pampers &
Pearls
. Fellow bloggers and readers are one of our greatest sources of inspiration, and we hope you will join us and share your "muse."
REQUIREMENTS:
Grab the button provided and link back to both of our blogs:
Ann Elliott and Pampers & Pearls.
Link up starts on Wednesday at 7:30am EST.
Please help us promote the link up!
Use #MidWeekMuse and be sure to tag us on IG:
Share you post on Facebook and give us a shout out:
Follow us on BlogLovin:
Ann Elliott and Pampers & Pearls.
We can't wait to see what's inspiring you this week, and we hope you will join us for the first link-up next week. In fact, we'll even have a little surprise for one lucky linker…
------------------* SECOND * ----------------
Since Wednesday's are now all about a "Muse", I would like to introduce you to my newest Sponsor;
Crave Boutique
! "
Crave Boutique, located in the Shoppes of Avondale (an awesomely adorable area of Jacksonville), is like having a little bit of Manhattan right in your own neighborhood. With an extensive selection of denim, tops, dresses and accessories, Crave Boutique stays current with the fashion trends, without sacrificing individual style."
I've known the o
wner, Robin Williams, for almost a year and not only love her style, but am amazed at her ability to find the perfect selection of clothes for all her clients, while still maintaining a very specific niche in the Jacksonville fashion market. "
Robin has extensive experience in fashion merchandising and was a personal stylist to several well known celebrities. The number of designer choices can be overwhelming, so Robin offers her recommendations based on each clients own personal preferences and figure." If you live in the Jacksonville area you've got to stop in and meet her for yourself; tell her Morgan from Pampers & Pearls sent you. For all of my "out-of-town" readers be sure to shop her online boutique here, which is filled with just as many amazing finds...like both the shorts & sweater below.
Two weekends ago my beloved Gators played in the NCAA Final Four. A group of us decided to watch the game/eat dinner at our new favorite bar, Mellow Mushroom Avondale. (I wrote a little bit about the restaurant here). I realized I didn't have anything to wear, so I ran into Crave in desperate need of a last minute outfit, and this is what Robin and I put together. Adorable right!? I got sooooo many compliments on these shorts (which were totally appropriate for the weather that day) and the sweater was beyond comfy. I loved this outfit so much because I felt "festive" for the game, chic with the perfect dash of cute, and age appropriate (since I spent half the game running after my son). Y'all need to check out Crave ASAP!
Labels: Ann Elliot, Annie Griffin, Crave Boutique, Eileen Fisher, fashion, Gianni Bini, Kate Spade, Michael Kors, Mid Week Muse, Moon & Lola, Ray Ban