I'm that weirdo kid that didn't mind uniforms. In fact, when I was still teaching I actually mentioned in a department meeting one time that I thought it would be soooo much easier if we had uniforms like the students. Well Holy Molies...if looks could kill I would have been instantly incinerated. You would have thought I just said that Pontius Pilate was my hero and the Bronte' sisters were greasy lesbians! Don't get me wrong...this girl...J'adore Mode; clearly! But every now and then (especially as a mom) it would be awesome to have a CUTE uniform; one last thing to make your brain hurt in the morning. So I've decided that for every season I'll just create my own uniform (see here for last Winter's)...and here is what I'm musing on for summer!!!
Sunnies: Ray-Ban // Necklace: Sweettart Clothing // T-shirt: Shop Dandy // Jorts: Levi's // Clutch: GiGi New York // Espadrilles: H&M // Link Bracelet: Target // Charm Wire Bracelets: Alex & Ani // Crystal Bracelet: Love Andrea's Closet // Cable Bracelets: David Yurman
I could have died when I saw this shirt! Awesome right!? I mean, with how much I've been posting #ootd on Instagram lately, I thought this was beyond perfect; and I'm not too proud to make fun of myself either! This should really say, "This is my mom uniform", but you get the point. It's a super comfy 100% cotton t-shirt that can make any outfit cute because it's sassy, easy, and breezy...just like me! I love pairing it with my new jorts & espadrilles, but you can also dress it up like Danielle from Shop Dandy does here. It's the best outfit ever because people think I (1) tried to look cute and (2) showered, however neither are really true.
Peeps, recreating this outfit is as easy as picking your nose. My espadrilles were super cheap (from H&M), I got my jorts on sale from Piperlime & my shirt was completely affordable. Then, just pile on a bunch of fun jewelry and red lipstick, and you are ready for anything, any day! Also, if you're like me and don't wear make-up during the day, you'll need some sweet sunglasses too! Walgreens has my favorite ;-). Cheap & Chic - Boom!
Oh...and how about my amazing new clutch!? It's not exactly "savvy" but it's completely functional. I put everything I need in there ($, lip gloss, ID) and then throw it inside Wake's diaper bag; Voila...instant chic-ness if necessary!
Alright Lovies...what are you musing over this week? Share below!!!
_________________________________________________________________________________
~ HOW MID WEEK MUSE WORKS ~
Mid Week Muse is a linkup party every Wednesday. Submit your favorite fashion
related post from that week and link it up here at
Ann Elliott
and
Pampers &
Pearls
. Fellow bloggers and readers are one of our greatest sources of inspiration, and we hope you will join us and share your "muse."
Grab the button below and link back to both of our blogs:
Link up starts on Wednesday at 6:00am EST.
Please help us promote the link up!
Use #MidWeekMuse and be sure to tag us on IG:
Share your post on Facebook and give us a shout out: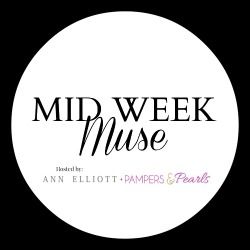 Also linking up today with:
Labels: fashion, GiGi New York, H&M, Levi's, Lucky, LuckyMag, Mid Week Muse, Shop Dandy